Kyu Jung
Co-Founder and President
For over 20 years Kyu has worked on some of the largest and most complex construction projects in the National Capital Region including leading program management for the $4.4 billion redevelopment of the West Campus of St. Elizabeths Hospital for the consolidated headquarters for the Department of Homeland Security.
Kyu's focus is on building the right teams to help our client's optimize the potential of their projects and programs. Within Procon Kyu defines corporate business strategies, sets performance and operational goals, and sets and monitors the quality standards for the organization. He is an innovative problem solver, expert of processes and best practices, and the ultimate team player.
Education
Master of Science, Architecture/Construction Engineer Management, Virginia Tech
Bachelor of Science, Civil Engineering, Virginia Tech
---
Mark Ilich
Co-Founder and Executive Vice President
With over 20 years of experience Mark has been a leader in using technology to improve business practices in the construction industry. He and his Procon team were instrumental in the development and implementation of a nationwide electronic project management (ePM) tool for one of the nation's biggest landlords.
Mark's oversight of Procon's long term growth and daily operations is enhanced by his ability to connect with people and the leadership skills he picked up while deployed overseas with the U.S. Army. Equally comfortable as client project executive as he is running Procon operations, Mark's core strengths include client and employee relations, project management, marketing, and corporate development.
Education
Graduate Research in Construction Management, Virginia Tech
Bachelor of Science, Civil Engineering, Virginia Tech
---
Jason Lopez, CCM, LEED GA
Senior Vice President
With professional experience working for one of the nation's largest construction contractors, Jason brings an important point of view to his role providing construction management services and overseeing Procon's CM workforce. Jason has 17 years of construction industry experience and has worked on numerous large scale construction projects and programs including providing leadership on the $4.4 billion redevelopment of the West Campus of St. Elizabeths Hospital for the consolidated headquarters for the Department of Homeland Security.
Jason oversees all Construction Management personnel, ensures that resources are in place and are meeting quality standards on all Construction Management projects.
Education
Bachelor of Science, Construction Management, Florida International University
Credentials
Certified Construction Manager
LEED Green Associate
---
Shamika Davis
Human Resources
A seasoned human resources expert, Shamika heads up employee recruiting and hiring and ensures that our benefits programs and employment regulatory requirements are well in hand. In addition to her experience in human resources management, Shamika's project management experience gives her the perfect perspective for a company that hires a lot of project managers.
Education
Master of Professional Studies, Human Resources and Employment Relations, The Pennsylvania State University 
Bachelor of Arts, Government and International Politics, George Mason University
---
Stephen DeVito
Director of Technology
Steve is a leader in Procon's technology initiatives and is a nationally recognized BIM expert who specializes in applying information technology to building portfolios to make them more efficient in their design, construction, operations, and maintenance. He holds a Certificate of Management in Building Information Modeling from the Associated General Contractors of America. Steve proved instrumental in assisting the nation's largest landlord, the U.S. General Services Administration, in developing their BIM, CMMS and COBie program and standards.
Education
Bachelor of Science in Information Technology, Drexel University
---
Olesea Caziuc
Scheduling Executive
Olesea brings over 10 years of experience specializing in highly sensitive program/project scheduling services to support design-build construction projects by leading CPM (Critical Path Method) scheduling efforts. Olesea works closely with field and office personnel to track and update schedules on a daily basis in order to consistently provide decision makers with honest and accurate reports and projections. She develops a detailed and organized reporting Standard of Practice, to provide leadership personnel a clear, concise, and dependable forecast for a program or specific projects successful completion. 
Olesea is highly experienced in working with owners, clients, tenants and contractor personnel to resolve issues and ensure project stakeholder satisfaction.
Education
Master of Business Administration, Academia De Studii Economice, (Bucharest)
Bachelor of Science, International Project Management, Academia De Studii Economice, (Bucharest)
---
Bert Aultman
Manager of Business and Technology Consulting Division
Bert is an engineer who has applied his expertise in engineering and technology to improving business processes and technology integration into the full life cycle of real estate assets.
Bert has been instrumental in providing leadership for Procon's practice in the development and implementation of electronic project management for real estate projects from concept to occupancy. Bert's project portfolio includes supporting one of the nation's biggest landlords with electronic project management and facilities management research, analysis, and implementation.
Education
Bachelor of Science, Mechanical Engineering, Georgia Institute of Technology

---
Thomas Otto
Vice President, Marketing
Thomas has over 20 years of experience in project management, communications, and marketing in both the private and public sectors. He oversees the development and delivery of fully integrated marketing strategies for Procon, developing and implementing brand strategy and developing responses to requests for proposals. As a former Asset Manager for the U.S. General Services Administration, Thomas has firsthand experience in the federal procurement process including serving as chair on numerous source selection panels.
In addition to experience in marketing and communications, Thomas has served as project manager for large federal planning and historic preservation projects including the public/private redevelopment of the Southeast Federal Center, the redevelopment of St. Elizabeths Hospital, and the planning and design of the memorial for President Dwight D. Eisenhower. Thomas was also commissioned by GSA to research and write a full length history of St. Elizabeths Hospital National Historic Landmark.
Education
Master of Regional Planning, Cornell University
Master of Arts, American Studies/Historic Preservation, University of Hawaii
Bachelor of Arts, History, University of Minnesota
---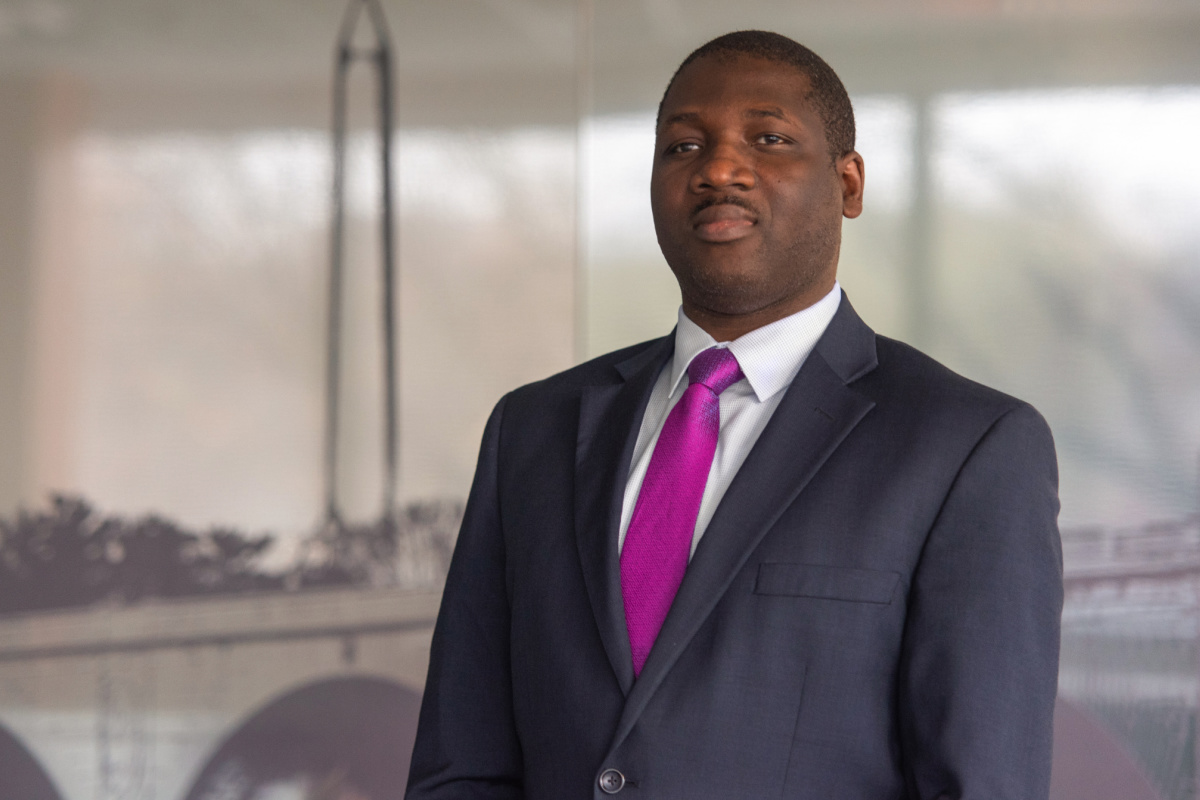 Olufemi Gbolagun, CPE
Cost Estimating Executive
Femi is a Certified Professional Estimator with over 20 years of experience in construction cost estimating, quantity surveying, and construction management. He has provided estimates for numerous federal, commercial, healthcare, transportation and infrastructure, hospitality, and cultural projects. He has worked on projects ranging from $10 million to $2.0 billion in value both in the U.S. and around the world.
Throughout his career, Femi has developed and sustained effective working relationships with clients, subcontractors, vendors, Architects and Engineers.
Education
Bachelor of Science, Quantity Surveying, Obafemi Awolowo University
---
Chris Murray, CCM, LEED AP
Project Executive
Chris is an innovative construction executive with over 18 years of experience in the industry having worked both on general contractor teams and as owner's representative. His experience includes private and public sector projects across the country.
Chris is recognized for leveraging a unique combination of organizational skills, technical proficiencies, and creativity to his leadership and problem solving. He builds solid working relationships and establishes trust with clients, designers, and contractors to successfully deliver projects.
Education
Bachelor of Science in Civil Engineering, Clemson University
---
Jay Schrum, CCM, STS, LEED AP
Project Executive
With over 20 years of experience in the design and construction industry and extensive experience working on large projects for general contractors, Jay provides important expertise to our clients and leadership to our project teams.
Jay has an impressive record of project management experience through all phases of the projects from project planning and design to construction and occupancy. He also provides leadership for Procon's scheduling, cost estimating, and commissioning practices.
Education
Bachelor of Architectural Engineering, The Pennsylvania State University
---
Pamela O'Reilly, NCIDQ, LEED AP, FMP, CCMP™
Senior Consultant, Facilities, Design & Change Management
Pamela has nearly 20 years of experience of facilities-related consulting including space planning and utilization, facilities planning and analysis, building automation technologies, change management, project and program management, construction drawing review, and sustainability.
With a proven track record of success with business efficiency strategies, Pamela excels at managing complex projects and enhancing capabilities, portfolios, and programs for commercial clients and federal agencies with a focus toward innovation.
Education
Bachelor of Arts, Interior Design, Colorado Art Institute
Bachelor of Arts, Art History, College of William and Mary
---
John Mackay, CFM
Senior Consultant - Facilities Management
John brings over 20 years of combined facility management and consulting experience to Procon's broad-based construction management service offerings. John has managed all aspects of national facility programs and consulted with many organizations large and small across multiple sectors on organizational and staffing change, procurement, and technology.
Through his ability to leverage his experience, John has transformed how organizations apply new technologies, align budgets, train facilities staff, and implement policies and procedures. His technique and dedication to providing diverse solutions, places organizations on a trajectory for scalable support and continued rapid growth.
Education
Bachelor of Arts in Economics, University of Virginia

---
Daryl A. Starks, PE, PMP, CCM, PRINCE2 Pract.
Project Executive
Daryl is a professional engineer with extensive experience in the design and construction industry. Daryle has a successful track record providing program and project management on major federal construction projects. His experience includes all facets of the construction process on numerous Design-Bid-Build, Design-Build, GMP, and numerous historical building projects. 
Having worked for firms specializing in construction management, engineering, and architecture, Daryl has gained knowledge, experience, and proficiency in a broad range of general construction processes from a variety of different points of view.
Education
MBA, University of Maryland
Bachelor of Science in Architectural Engineering, Tennessee State University
---