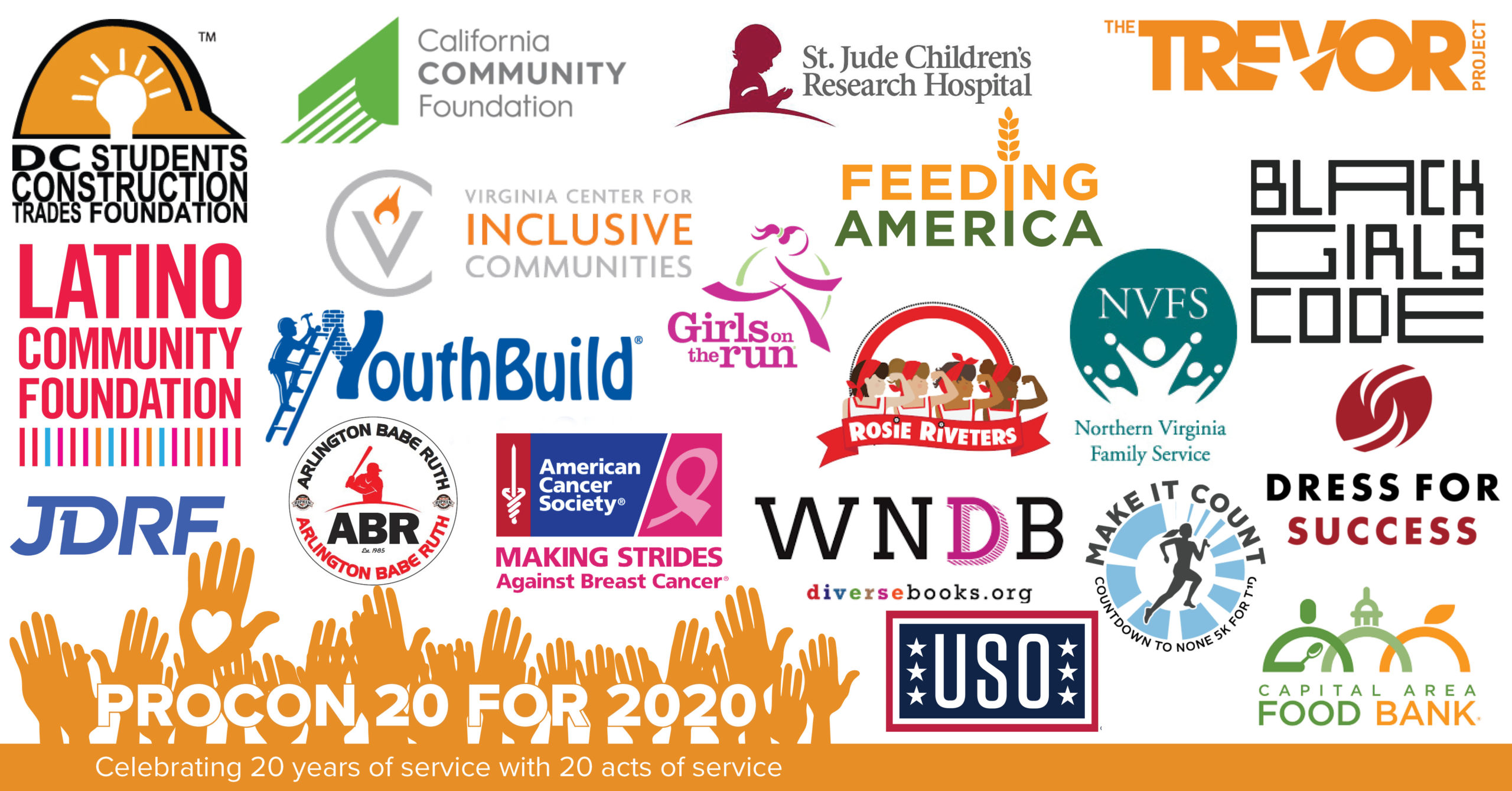 In 2020, Procon Consulting celebrated 20 years of providing construction and program management services to our clients nationwide. What started in a Virginia Tech classroom two decades ago by co-founders Kyu Jung and Mark Ilich, evolved into a recognized consulting firm that specializes in providing a holistic approach for businesses to reach their long term goals.
Recognizing that the company's success would not have been possible without the support of the communities where Procon's stakeholders – customers, employees, supplies and others – live, work and raise their families, Procon placed an emphasis on service and corporate social responsibility to celebrate the milestone anniversary. 
Throughout 2020, Procon dedicated itself to 20 acts of service that are deeply engaged in supporting marginalized communities, and empowering organizations that work towards providing a more diverse and inclusive future related to our AEC industry. 
In addition to the organizations highlighted below, our 20 acts of service included support of the following organizations: The Trevor Project, Dress for Success, Capital Area Food Bank, Girls on the Run DC, Northern Virginia Family Services, JDRF, Feeding America, California Wildfire Relief Fund, Making Strides Against Breast Cancer, St. Jude Children's Research Hospital, USO of Metropolitan Washington-Baltimore, Virginia Center for Inclusive Communities, Countdown to None, and Arlington Babe Ruth. 
Procon sponsored the DC Students Construction Trades Foundation, an organization dedicated to introducing young students to the broad range of careers in the construction industry. Our donation will support their mission to offer programs that provide hands-on learning experiences and positive peer interactions that build successful paths to graduation, careers and post-secondary education.
Procon donated to Black Girls CODE, an organization with its mission to empower young women of color between the ages of 7-17 to embrace the current tech marketplace as builders and creators by introducing them to skills in computer programming and technology.
Procon supported YouthBuild, a youth and community development program that simultaneously addresses core issues faced by low-income communities: housing, education, employment, crime prevention, and leadership development. Our donation will help support YouthBuild's mission to empower low-income people ages 16 to 24 to work toward their education, learn job skills, and to serve their communities by building affordable housing. 
At Procon, we believe that everyone deserves a voice and has a story to share and has reaffirmed its commitment to empowering diversity by donating to We Need Diverse Books. We Need Diverse Books is a non-profit organization dedicated to assist with the production and promotion of literature that reflects the lives of all young people.
Procon sponsored the Latino Community Foundation (LCF) to support their program, Latino Nonprofit Accelerator. The Latino Nonprofit Accelerator works to give grassroots nonprofits the boost they need to grow into strong anchor institutions.
Procon donated to the nonprofit organization Rosie Riveters and their mission to empower girls ages 4-14 to be strong, confident, and competent in the fields of science, technology, engineering, and math (STEM). Procon is committed to supporting organizations that motivate and inspire girls to try new STEM skills while helping to bridge the gender gap currently found in the sciences.