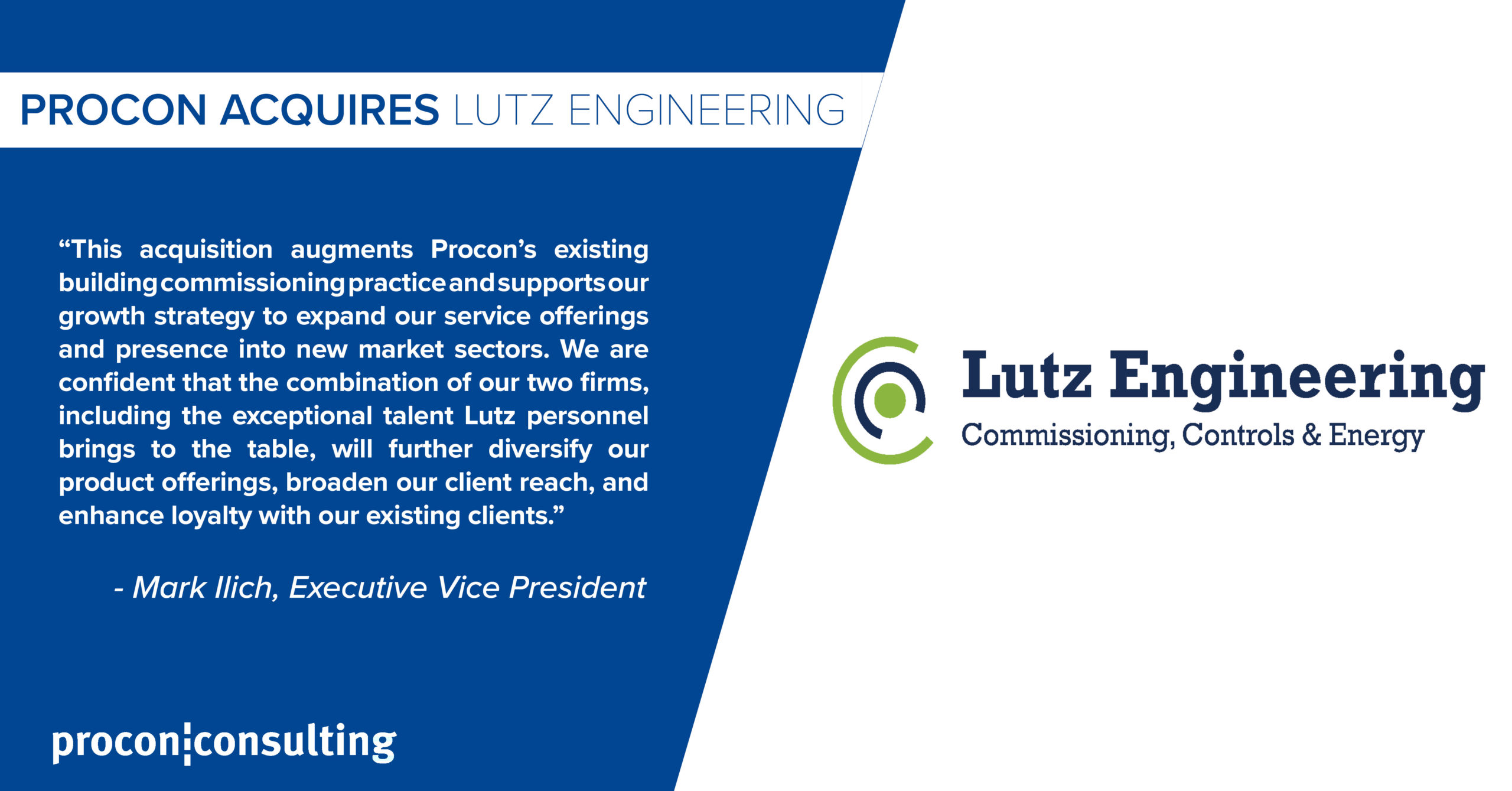 Procon Consulting, a leading program and project management firm, has announced its strategic acquisition of Lutz Engineering, Inc of Wilmington, Delaware. Lutz is a mechanical engineering firm that has been providing commissioning, energy, and building automation services for over 23 years
"This acquisition augments Procon's existing building commissioning practice and supports our growth strategy to expand our service offerings and presence into new market sectors," said Mark Ilich, Executive Vice President of Procon Consulting. "We are confident that the combination of our two firms, including the exceptional talent Lutz personnel brings to the table, will further diversify our product offerings, broaden our client reach, and enhance loyalty with our existing clients."
Under the leadership of Robert 'Bob' Lutz, PE, Lutz Engineering has established a strong reputation for its commitment to quality in commissioning, mechanical engineering and design, automation design and planning, building automation system services, and energy services. Lutz built a particularly strong portfolio of projects in the education, non-profit, and private sectors.
"Lutz Engineering has always endeavored to be the regional commissioning agent of choice for discerning architects and owners, offering high-quality design and client service," said Bob Lutz, PE, principal, Lutz Engineering Inc. "We are excited at this opportunity to expand our service offerings along with the increased level of resources and experience that Procon provides. We will continue to serve our existing clients and bring added value to future clients."
For more information, please visit proconconsulting.com or direct all inquiries to Mark Ilich, milich@proconconsulting.com 
About Procon
Procon is a full service construction project management/owner's representative firm with technical professionals supporting all phases of planning, design, and construction. Founded in 2000, Procon provides collaborative solutions in program and project management and leverages technology to create better, more holistic, ways for businesses to achieve their goals. Based in Arlington, Virginia, Procon has a national presence with projects across the country. Procon provides comprehensive construction program and project management as well as commissioning, estimating, scheduling, risk management, facilities management, and technology services.