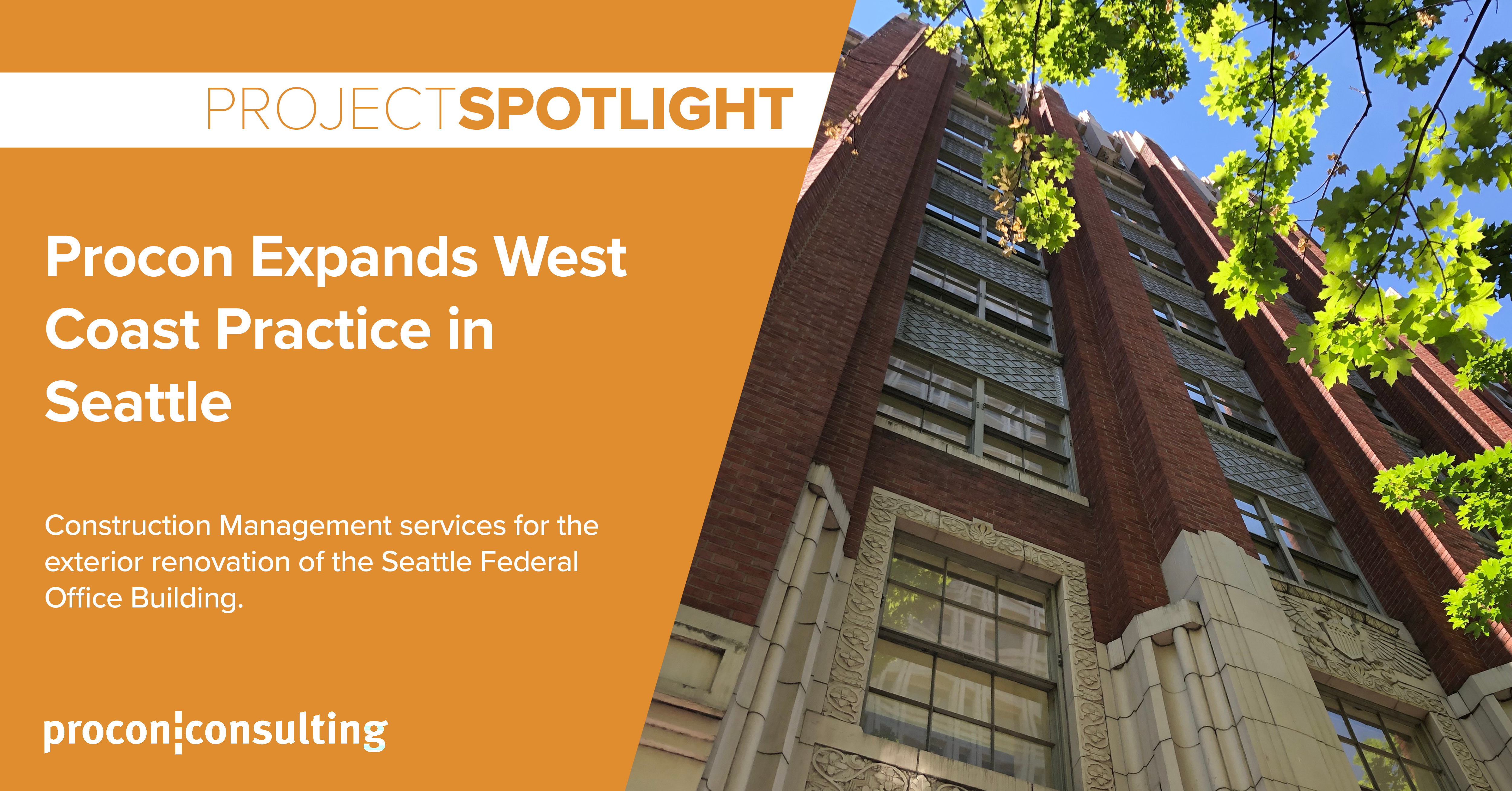 Procon was awarded a contract to provide construction management services for the exterior renovation of the Seattle Federal Office Building. With this award, Procon expands its West Coast practice into Washington state for the first time.
With its last comprehensive exterior restoration completed in 1993, the historic building will undergo restoration to the exterior facade, roof replacement, and window restoration. Procon's contribution to this project will be to provide construction management services in support of GSA to ensure all requirements are met in regard to scope, schedule, budget, quality, historical preservation, and coordinating all activities related to the projects execution. 
"There are multiple areas on the exterior of the building that have decayed due to water infiltration to the interior wall cavity," said Cathy Bartlett, CCM, PMP, Procon's design and construction manager. "Without restoration, the building will continue to deteriorate – putting pedestrians and tenants at risk from falling debris." 
The building consists of a concrete encased steel structural system clad in red brick masonry with a granite base and buff colored terra cotta at the first floor and parapet. The roof is multi-tiered, cascading down symmetrically from the 9-story central tower fronting 1st Avenue to the two 5-story wings extending west along Madison St. and Marion St. Roofs are flat with tall parapets and clad in build-up and membrane roofing. Windows are double-hung steel, typically paired and stacked in vertical ribbons with decorative aluminum panels between floors.
"All of the work on this historic building will have to comply with the Secretary of Interior's Standards and Guidelines for the Treatment of Historic Properties," Bartlett said. "We have teamed with Jean Carron of Goody Clancy, who will serve as the preservation architect on the project. Together, we will be working to make sure the project receives all of the necessary approvals from the State Historic Preservation Officer." 
Along with the conservation strategies, Seattle FOB presents the additional challenge of being occupied during construction and presents high foot traffic within its outside perimeters. 
"The building is currently occupied which means we will have to ensure all safety measures are continuously in place inside and outside the building to protect tenants and the general public. At the same time proper coordination will be crucial to keep disruption to the tenants at a minimum," said Bartlett. 
Construction is anticipated to begin in 2020, with the entire project expected to be completed in 2021.