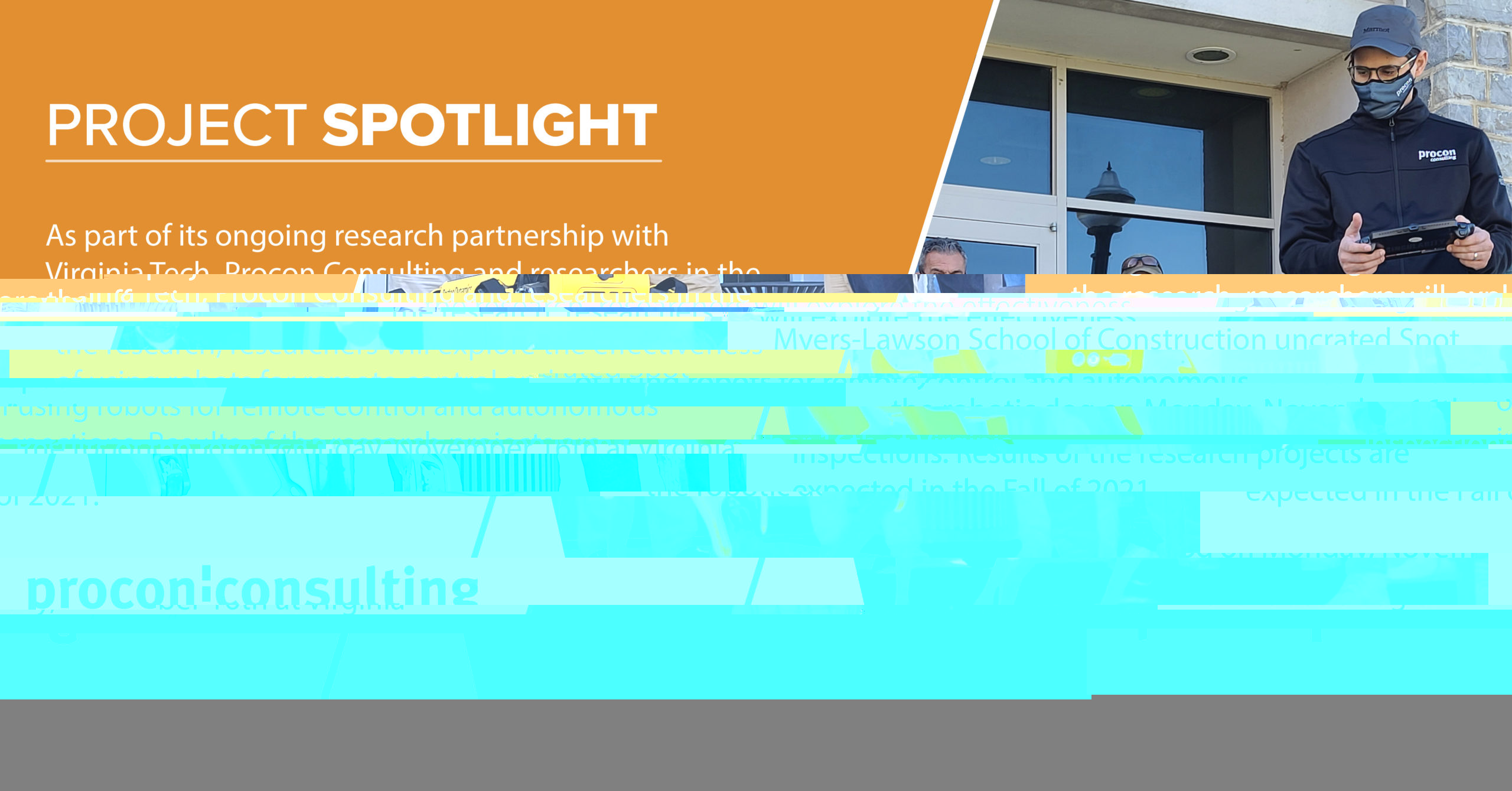 As part of its ongoing research partnership with Virginia Tech, Procon Consulting and researchers in the Myers-Lawson School of Construction uncrated Spot the robotic dog on Monday, November 16th at Virginia Tech. Spot, an agile mobile robot, is being used to explore  the automation of remote inspection tasks to capture data safely and accurately. 
"Procon has partnered with Virginia Tech to research the usability and effectiveness of robots for on-site construction progress monitoring," said Steve DeVito, Director of Technology at Procon Consulting. "We integrate technology into our core consulting practices and we've partnered with Virginia Tech because they are pushing the envelope on how to use technology and shaping the construction leaders of tomorrow." 
Procon and the Virginia Tech research team are working with the school's Facilities Capital Construction department to test the technology on three active construction projects. The three construction projects include the Student Athlete Performance Center in Jamerson Hall, Center for Autonomous Mining and Robotics in Holden Hall, and the new construction Living-Learning Community residence hall in the Creativity and Learning District.
"We are exploring ways that Spot can allow us to remotely monitor construction progress on these projects," said DeVito. "For owner's with a dispersed real estate portfolio, job sites with limited access, or for safety reasons, robotic inspectors can be a real game changer. Our research is not just looking at how Spot can help conduct site inspections via remote control, but perhaps more importantly, also how it can conduct inspections autonomously." 
The collaborative research project between Virginia Tech and Procon Consulting is expected to conclude in the Fall of 2021 when student researchers at the Myers-Lawson School of Construction will report their findings.  
To see Spot in action on Virginia Tech campus, please click here.